What happens when two of your most coveted IPL Teams are to play in one day in two different matches against two teams you are not fond of at all.. And to top it all, you have a visit to your ophthalmologist and a date you cannot miss! All of this in one single day!
Such unfortunate fate glided on to the horizon of my life on the 14th of May this year! What stakes shall a girl have to take to strike on to both the boats and yet not fall?
My doctor's appointment was an uphill task that I'd managed to gather. He is a very handsome errm..and a busy man! But I had to watch the IPL match between SunRisers Hyderabad and Kings XI Punjab! How could I let Dhawan or Irfan down! Nonetheless, I went ahead with the visit and quickly came back home only to find that there was no electricity! Of course, I had missed quite a bit of the match which I still could easily watch while watching the Live match, all thanks to the Star Sports website! I am the new tech girl in the block you see!
This is what I love about the revolution that internet has recently undergone. I could watch the match updates and then continue watching the match live thereafter without switching the TV on!
However, no good thing ever lasts! Thus, the match ended as soon as the last bit of my laptop's battery gave up! Sigh!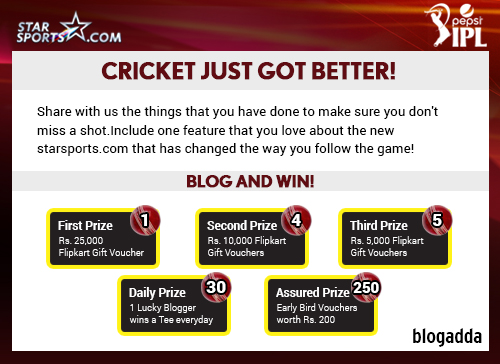 What next? I had to hurry and get ready for my date. We met at a mall, for dinner and soon were seated at our table. My date, is a college senior and the football team captain, and I always had had a crush on him. So you understand why I could not say a 'no' to him!
But a girl always knows how to get her way! So I made sure we sat at a table from where I could see the Television easily though he kept insisting that we move on to a quieter one. Thus, I had my way and had a very tasty dinner date, with Gambhir, Pathan, Uthappa and my date of course!
I had taken my laptop with me and had got it charged while we were eating. Thus, by the time we were done, the laptop was fully charged but the game was at its climax! And we left..
I had my phone fixed into my palms all the way back to my home, url-ed at m.starsports.com I just love the technology they use at Star Sports which posts the scorecards fastest!
And there it came! KKR won by 6 wickets! I yelled and my flat watchman almost yelled back in anger! Haha… what a fun night I had! I came back home and switched on my laptop, played the entire game and retired into the comforts of my snugly bed!
That's my craziness for IPL. What's yours? Thanks Abhyudaya, for asking me to pen down my craziness for the world to see! Though, I pray my date does not! Cheers to the spirit of Cricket that binds us all into a frenzy, only cricket-lovers would know!